Ground Turkey Teriyaki Rice Bowl – I have received lots of comments over the years on how much people love this recipe, but also how they change it up and make it their own for something truly unique and delicious.
Ground turkey recipes are the tastiest when the meat is seasoned properly. Add some heat to this dish with some Sriracha or red pepper flakes.
Not fans  of rice? Use noodles instead. You can even use spaghetti noodles to mimic a low mein and toss in some cabbage to saute it with.
Feel free to cut the amount of sugar in this recipe. It won't affect the flavor but it will swing more towards the savory side.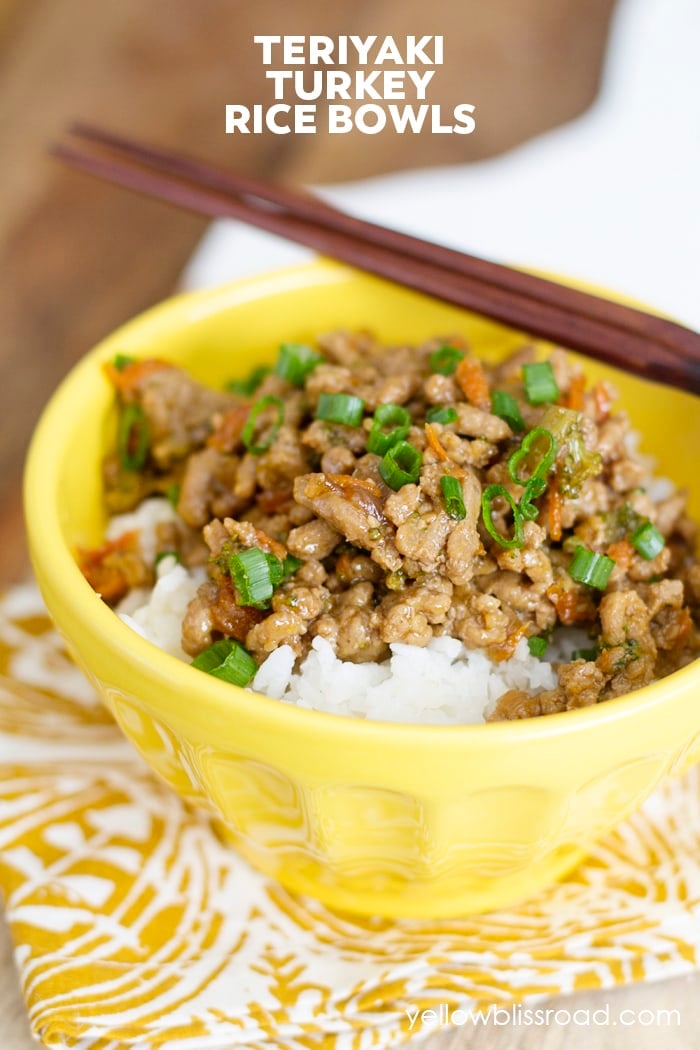 HOW TO STORE TERIYAKI GROUND TURKEY
Refrigerating leftovers: This dish will keep for 3-4 days in the fridge if properly stored in an airtight container. Reheat in the microwave or on the stove.
To freeze, allow to cool completely, then pour into a freezer bag or airtight container. Freeze for up to 6 months. Thaw in the fridge and reheat as described above. Freeze rice or noodles separately from the meat.
HOW LONG DOES RAW GROUND TURKEY LAST?
When you purchase ground turkey at the store, it has a "sell-by" date. Your meat will likely last 1-2 days past this date if properly stored in it's original packaging in your refrigerator. To further extend the shelf like of your ground turkey, freeze it within 1 day past the sell by date. To maximize freshness, wrap the packaged turkey in foil and place in a freezer bag. Follow these steps to ensure you always have fresh meat on hand for all of your favorite ground turkey recipes!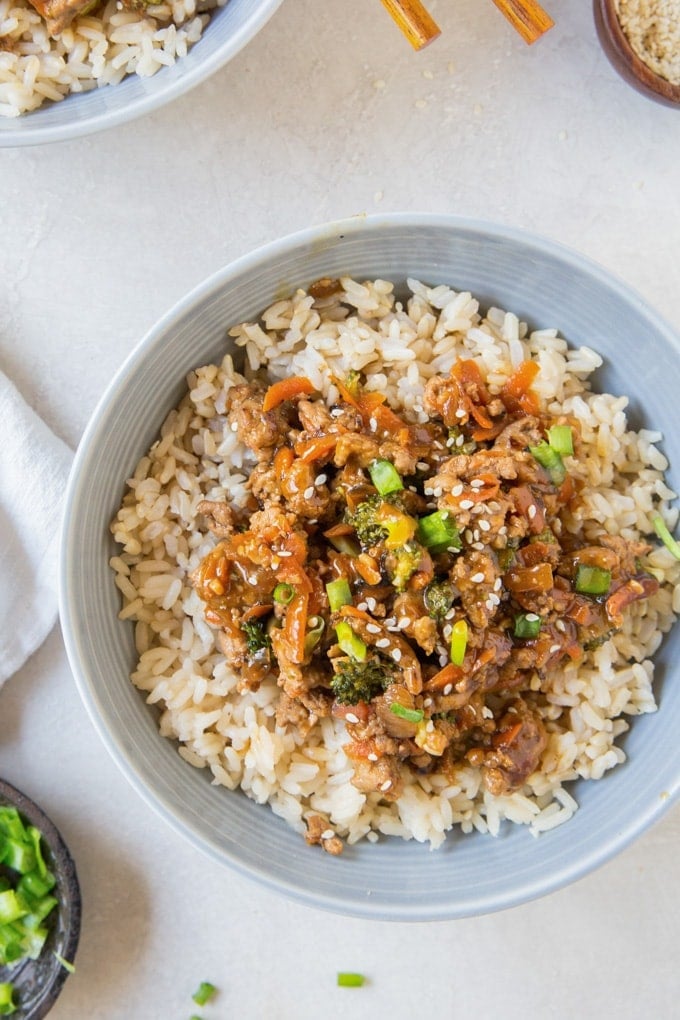 TERIYAKI TURKEY RICE BOWL
INGREDIENTS
Teriyaki Sauce
1/2

 

cup

 

Low Sodium Soy Sauce

1/4

 

cup

 

water

2

 

tablespoons

 

Red Wine Vinegar

2

 

tablespoons

 

brown sugar

 

or less as desired

2

 

tablespoons

 

granulated sugar

 

or less as desired

2

 

teaspoons

 

minced garlic

1

 

teaspoon

 

ground ginger

1

 

tablespoon

 

cornstarch

2

 

tablespoons

 

warm water
Ground Turkey
1

 

tablespoon

 

vegetable oil

1/2

 

cup

 

diced onion

2

 

tablespoons

 

minced garlic

1

 

pound

 

Ground Turkey

1

 

cup

 

finely chopped broccoli

2

 

large carrots

 

peeled and grated

2

 

green onions

 

diced, for garnish

4

 

cups

 

cooked white or brown rice

 

divided
INSTRUCTIONS
Mix soy sauce, 1/4 cup water, red wine vinegar, sugars, garlic and ginger in a small saucepan over medium heat. Stir with a whisk until sugar is dissolved.

In a small bowl, whisk together 2 tablespoons warm water and cornstarch until cornstarch is completely dissolved.

Heat sauce over medium high heat. Slowly whisk in cornstarch mixture and simmer until thickened. Remove from heat and set aside.

Heat vegetable oil in a large skillet over medium-high heat. Add diced onions and cook until soft.

Crumble ground turkey and garlic into the pan and cook until turkey is about half cooked. Add grated carrots and chopped broccoli and continue to cook until turkey is no longer pink.

Pour teriyaki sauce over cooked turkey and vegetable mixture and stir. Simmer for about five minutes to combine the flavors.
Spoon meat over rice or noodles. Garnish with green onions and serve immediately.
NOTES
Teriyaki Sauce is generally pretty sweet. However, feel free to cut back on the amount of sugar in the sauce. 1 tablespoon of each would suffice if you prefer a more savory than sweet flavor.
The nutritional information is based on serving this teriyaki turkey over white rice. Use brown rice or just less rice to reduce calories and carbs.
Feel free to customize this recipe with your favorite vegetables.
other recipe articles : Inside Out Chocolate Chip Cookies
NUTRITION
Calories: 
380
kcal
Carbohydrates: 
56
g
Protein: 
27
g
Fat: 
5
g
Saturated Fat: 
3
g
Cholesterol: 
50
mg
Sodium: 
925
mg
Potassium: 
543
mg
Fiber: 
2
g
Sugar: 
12
g
Vitamin A: 
4260
IU
Vitamin C: 
21
mg
Calcium: 
55
mg
Iron: 
2
mg